German manufacturer of quartz crystal components, KVG, recently sent its vice president of sales, Jürgen Müller, to South Africa to visit key customers in the defence sector, together with the company's local distributor, Actum Group. KVG manufactures an extensive range of crystals, oscillators, filters and related products that are used in plating process monitoring as well as temperature, pressure and viscosity sensors.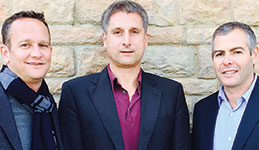 Jürgen Müller, KVG vice president of sales, standing between Actum Group directors Kevin Klaff (left) and Greg Barron (right).
The KVG range of standard products and customised solutions makes it a natural fit for Actum Electronics, which focuses on niche products for high-end sectors. It is also well suited to this continent's requirements, according to Müller: "Africa is a growth area and has exactly the type of customers we are looking for," he says.
Müller explains that KVG's main focus is the design and manufacture of quartz crystal products. The company's state-of-the-art, low noise and tight stability products are used in applications from test and measurement systems to telecoms networks and radar systems for the aerospace, defence and commercial sectors, and even avionics and medical testing.
KVG is strongly focused on research and development, and has introduced new technologies to the market such as inverted mesa crystals, ASICs and an advanced precision crystals line. The latter has redefined the physical limits of crystal technology. "We are really working at the edge of physics with some of these high-end products," Müller comments.
Highlighting the latest trends in this niche sector, Müller points out that military customers, in particular, are increasingly looking to companies like KVG to supply the appropriate testing too. "We can carry out all kinds of special testing for our products. This means that not only do we supply the products themselves, but we also prove that they can perform under certain conditions."
In this regard, KVG is certified according to ISO 9001 and ISO 14000. In 2011 the company received certification from the European Space Agency (ESA), which makes it one of only two manufacturers in Europe certified to supply space crystals.
Crystal products in the defence sector must be able to withstand operating conditions such as vibration, and are subject to the trend towards a reduction in overall product size. "There is a definite trend in the defence sector to strive for improved performance under certain mechanical conditions in order to reduce the sensitivity to vibration," Müller explains. "Many of our customers require smaller equipment packages. At the same time we are constantly moving towards higher levels of specification and improving the general performance under specific conditions."
Müller adds that so-called low-phase noise applications are becoming increasingly important. "Low-phase noise is seen as a measure of the purity of the signal. The better this parameter, the higher a particular frequency can be multiplied without any distortion. This is critical in radar systems, for example."
A privately owned company located in Neckarbischofsheim, about 100 kilometres south of Frankfurt, KVG is a mid-sized company, with about 60 employees, that was established in 1946. According to Müller, this pays off especially in the defence sector, where military customers are looking for long-term relationships with their suppliers. "Our main competitive advantage is that we have been in the market for a long time, with an established product range and a lot of expertise and experience," he points out.
The shift towards the defence sector has occurred over time, with the company having focused originally on the telecoms market. "The defence sector is more specialised and its requirements are far stricter. The quantities are lower and there is much more customisation. This requires a lot of engineering expertise, and is something we pride ourselves on," Müller elaborates.
From pioneering synthetic crystal material in 1963 to the introduction of vibration damped frequency source modules in 2014, KVG has a solid reputation for innovation and technical excellence. "This fits in with the Actum Group's vision of looking for good-quality niche products with a strong brand name," director Kevin Klaff comments, to which director Greg Barron adds "we acquire brands that fit within our scope of expertise and that complement the group's vision. Our expansion goals are focused mainly on acquiring businesses with a similar model.